Outdoor Education Centre
For over 100 years, folks have come to Onondaga Camp each year to discover the challenges and rewards of outdoor education. Situated on the shores of Middle Bob Lake near Minden, Ontario, Onondaga Camp inspires the best in outdoor fun, learning and adventure for all. We focus on providing participants with the opportunity to try a variety of activities in a supportive environment. We are pleased to offer outdoor education trips to schools and organizations looking for customized programs that meet the needs of your group.
Activities
A hallmark of Onondaga Camp's program is our activities. We are proud to offer a wide variety of programs suitable to any school needs. For more information about our programs please click on the following buttons:
Daytime Activities Evening Activities

2024 Dates & Rates
Onondaga Camp is pleased to offer a variety of dates for both the Spring and Fall Seasons.
Our Spring Program runs from May 22nd – June 14th, 2024. During these dates, we offer 3 Day, 2 Night Stays, which run from Monday to Wednesday or Wednesday to Friday.
Our Fall Program runs from September 9th – September 27th. Our Fall Season allows for more flexibility in regards to length of stay, as many groups tend to join us for a two to four day stay. Please see our 2024 Rates below:

For more information or to book your stay, please click on the button below.
Outdoor Education Programs
Onondaga Camp is please to offer a variety of programs that meet all the needs of your group. We are always excited to collaborate with different groups and schools to create a program that best suits you! Please check out our sample schedules.
GRADES 1-5 GRADES 6-8 GRADES 9-12 LEADERSHIP RETREAT
Our Facilities
The core of Onondaga Camp is comprised of a number of first-rate common buildings, accommodations and facilities, many of which were built within the past ten years. Designed for use by all participants, they include a spacious dining hall, a recreational hall, a comprehensive arts and crafts centre, three different sports fields, tennis courts, ball hockey and basketball courts, a state of the art challenge ropes course which includes a 70-foot swing.
Enjoy sleeping in one of our comfortable wooden cabins while enjoying the woodland setting. Our large wooden cabins sleep eight to ten, with an adjoining separate room that can be used by a teacher/supervisor. All of our cabins are equipped with electricity, and many are fully modernized with sink and flush toilet facilities.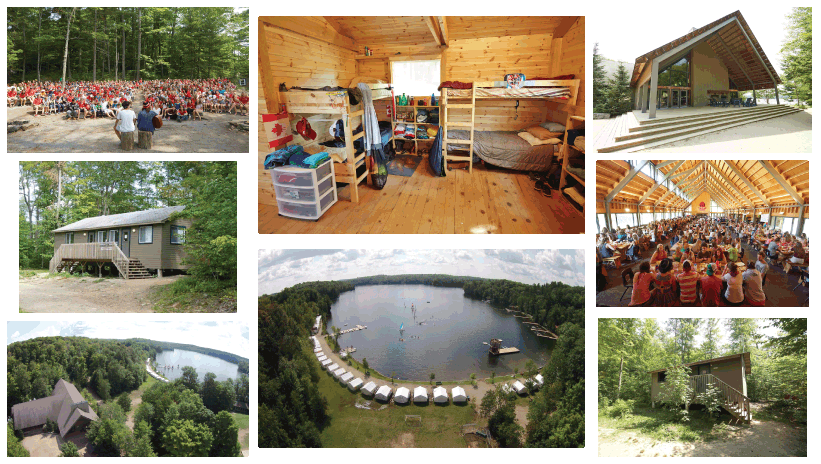 Our Outdoor Centre Staff
Our staff are trained professionals in outdoor education as well as first aid and water safety. Training our staff happens every season and is essential so that we can make sure your group will have the best possible experience. The staff are the core of our program. Therefore we stress the importance of creating an environment where all groups have the opportunity to play, learn, explore, achieve and grow with the help of our staff.